On Monday 17 September 2018, Executive Board member Yves Mersch unveiled the new euro banknotes of € 100 and € 200. The new banknotes are the completion of the Europe series, the second series of euro banknotes, and are in circulation from 28 May 2019.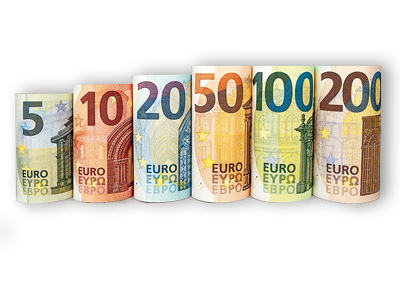 New, advanced security features are used for the € 100 and € 200 banknotes. Just like the other denominations, the new € 100 and 200 banknotes are easy to check for authenticity using the 'feel-view-tilt' method. At the top of the silver band there is a satellite hologram with small € signs around move the value digit. The € signs become clearer under direct light. The silver-colored band also shows the portrait of Europe, the style motif and a large € mark. The new banknotes of € 100 and € 200 also contain a special emerald green figure. All other denominations in the Europa series also have an emerald green figure, but with this special version there are also € signs in the value figures.
"The new banknotes of € 100 and € 200 differ in sizes from the old banknotes of € 100 and € 200. Both denominations are now as wide as the banknote of € 50. Their length has remained the same. the note, the higher the value, since the € 50, € 100 and € 200 are now equally wide, they can be sorted and processed more easily by machines, they also fit better in the wallet or wallet and last longer, since they will be less subject to wear and tear.